Commentary to come, dot points we are seeing live below.
Key Points We Have Just Seen:
Jobseeker allowance has been doubled, will be called the coronavirus suppliment
The government will waive the asset test and waiting period for the jobseeker allowance
The supplement will provide an additional $550 a fortnight on top of the existing jobseeker or new start payment and will be available to sole traders and casual workers who meet the income test.
Anyone eligible for the maximum jobseeker payment will now receive more than $1100 a fortnight.
From July 13, a further $750 payment will be made to those on income support that are not eligible for the coronavirus supplement.
Covers 5.2 million Australians, including those receiving the age pension, a carers allowance, family tax benefit and the Commonwealth senior card
Government to reduce deeming rates by a further quarter of a percent to reflect the recent Reserve Bank interest rate cut.
From April, those affected will gain access to superannuation, tax-free, capped at $10,000 this financial year and a further $10,000 next financial year
Sole traders or casual workers who have seen income or hours reduced by 20 per cent or more as a result of the coronavirus will be able to get early access to your superannuation. Applications will be made online.
All employing businesses will receive at least $20,000, all employing small businesses will receive at least $20,000 and some of the larger SMEs will receive up to $100,000.
Around 30,000 not-for-profit organisations which have an annual turnover of less than $50 million will also benefit
Government is guaranteeing in a 50-50 partnership with the banks and other lenders to provide more lending to Australia's small and medium-sized businesses. $40 billion scheme will start in early April will provide loans of up to $250,000 for up to three years for a business with a turnover of less than $50 million. No repayments will be required for the first six months.
The government is proposing to increase the threshold at which a creditor can take action to initiate insolvency or bankruptcy from as low as $2000 today to $20,000 and giving companies and individuals six months instead of 21 days to respond.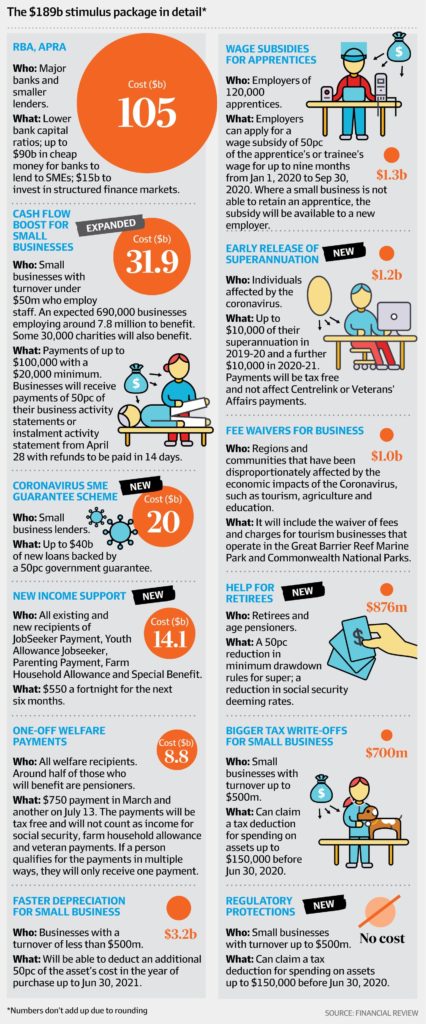 Scott Morrison has clearly stated this a tough time and that we all need to work together. A few key quotes from this morning;
"In this package, as I've been saying for the past week, it is about comforting, shielding, softening, cushioning the blow that is different from the focus we had in the first package.
"What is becoming very clear as these events go from week to week to week is new challenges emerge very, very quickly and we need to be very agile to respond to those so there are more challenges across the economy.
"How we can put those who will find themselves in a distressing situation or stood down or out of work or the business is unable to earn what they did before, how we can better deploy that effort across the economy.
"We want people where possible, subject to the health restrictions, ensuring that we can keep the economy functioning, as much as possible, in these rather extreme times.
"What I would say, particularly in terms of the last measures Josh was going through, if you have booked a wedding or if you have booked a trip, understand the person you have booked it with a going through a hard time as well and what we need to do is give each other a break at the moment and sit down and just work through these issues tactically as Australians.
"Understanding that if you force your issue, you make someone else's issue harder which at the end of the day will make your issue harder, so it is very important that Australians work together."
Contact
Get In Touch
We are available to chat just give us a call on 0434 955 417 or 0411 472 213
If you prefer to send an email question/query through the best address is info@peakwm.com.au or simply fill out your name, email address and a short message including your phone number will get back to quickly.