National house prices are on track to recover the losses recorded during the pandemic and reach a new high by February next year if the current level of growth is maintained, according to the latest CoreLogic property price index.
Australian property prices increased for the second consecutive month in November, rising by 0.8 per cent.
It follows a 2.1 per cent drop in home values between April and September.
Article written in the Australian Financial Review on the 1st December 2020.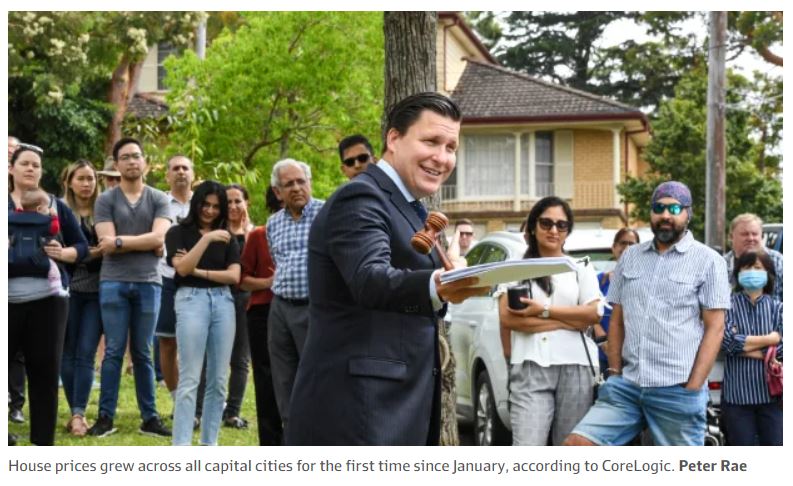 While property prices across all of the capital cities recorded an increase over the month for the first time since January, Sydney and Melbourne are expected to take longer to recover than other markets with home values at levels similar to those seen in early 2017.
Across the capital cities, Canberra and Hobart led the charge with prices increasing by 1.9 per cent over the month, followed by 1.4 per cent in Hobart, 1.3 per cent in Adelaide and 1.1 per cent in Perth.
Melbourne recorded a turnaround from falling prices in October with property values increasing by 0.7 per cent over November. Values increased by 0.6 per cent in Brisbane and 0.4 per cent in Sydney.
"The national home value index is still seven tenths of a per cent below the level recorded in March, but if housing values continue to rise at the current pace we could see a recovery from the COVID downturn as early as January or February next year," Corelogic's head of research Tim Lawless said.
"I'd be surprised if the growth rate started to falter between now and then," he added.
Housing values hit record highs in Brisbane, Adelaide, Hobart and Canberra in November while Perth prices have now reached 2006 levels and Darwin values are where they were at in 2007.
The recovery in Melbourne, where home values remain 5 per cent below their recent peak, would take another eight months to reach a new high, if the current growth trajectory remains consistent, while it would take another 11 months for Sydney to surpass its July 2017 peak.
Regionals Australia booms
Regional Australia drove the growth in national house prices over the month with regional home values increasing by 1.4 per cent, double that of the capital cities.
Regional Queensland has led the rise in values over the past three months, posting a 3.2 per cent lift, followed by regional NSW where values are up 3.1 per cent.
The outlier was regional WA where prices fell 5.8 per cent during the pandemic, compared to Perth where values remained flat, likely due to its relative affordability.
The CoreLogic data coincides with the latest Rental Affordability Index that found conditions for renters improved in Sydney, Melbourne, Brisbane, Adelaide, Hobart and Perth over the past year due to the downward pressure that the COVID-19 pandemic placed on rents in metropolitan areas.
While the JobSeeker supplement had improved rental affordability for Newstart households across the country, the index found recipients still faced moderate to extreme rental stress nationwide with rent costing between 42 to 69 per cent of renters' incomes in every capital city.
Ellen Witte, partner at SGS Economics & Planning, said that while rents fell between two and seven per cent nation-wide between March and June, many households were nevertheless trapped in a poverty cycle and seeking affordable rental accommodation in areas further away from jobs and services because the government was reducing JobSeeker allowances dramatically and the economy was not creating jobs.
The greatest falls in rental prices were in Melbourne, by 7 per cent and Hobart and Brisbane by 6 per cent.
"There is a real opportunity to use the current recession to build a stronger future. With low interest rates, high unemployment and an increase of demand for affordable housing, this is the time to invest in social housing. And at the same time, people can be brought back into jobs," Ms Witte said.
"An investment of about $7.8 billion would create 15,500 to 18,000 jobs over four years and add 30,000 dwellings to our social housing stock and refurbish aged stock," she added.
Contact
Get In Touch
We are available to chat just give us a call on 0434 955 417 or 0411 472 213
If you prefer to send an email question/query through the best address is info@peakwm.com.au or simply fill out your name, email address and a short message including your phone number will get back to quickly.